Presentation
In Normandy, along the Calvados coast, 50 km of cliffs are periodically affected by landslides for several centuries. On the eastern side of the coast, the 12 km of the Pays d'Auge section between Trouville-sur-Mer and Honfleur, has been particularly affected. Two spectacular landslides are investigated since almost 30 years: the "Fosses du Macre" and the "Cirque des Graves" landslides near the municipality of Villerville-Cricqueboeuf.
The Pays d'Auge plateau is bordered in the North by high cliffs of up to 140 m. The topography and geology of the cliffs is inhomogeneous. The main scarp is composed of chalk overlying sands. Below, a thick series of marls on top of sandy limestone shape the cliff toe and constitute a flat rocky reef between Trouville and the Pointe du Heurt. Below the scarp, the slope is more gentle and relatively straight. It is composed of blocks and debris of chalk and flints as well as loess which fill the voids between the chalk blocks. These formations have been placed during the Upper Pleistocene period.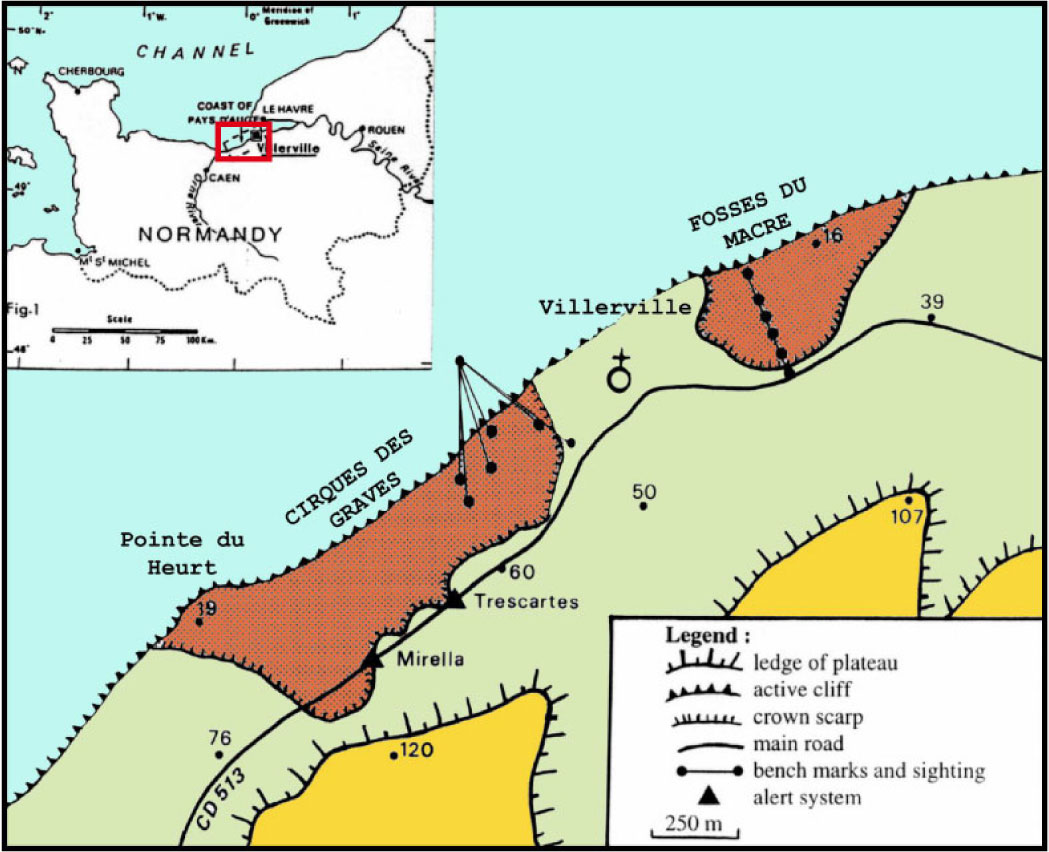 Location of the Villerville-Cricqueboeuf landslides and of the monitoring networks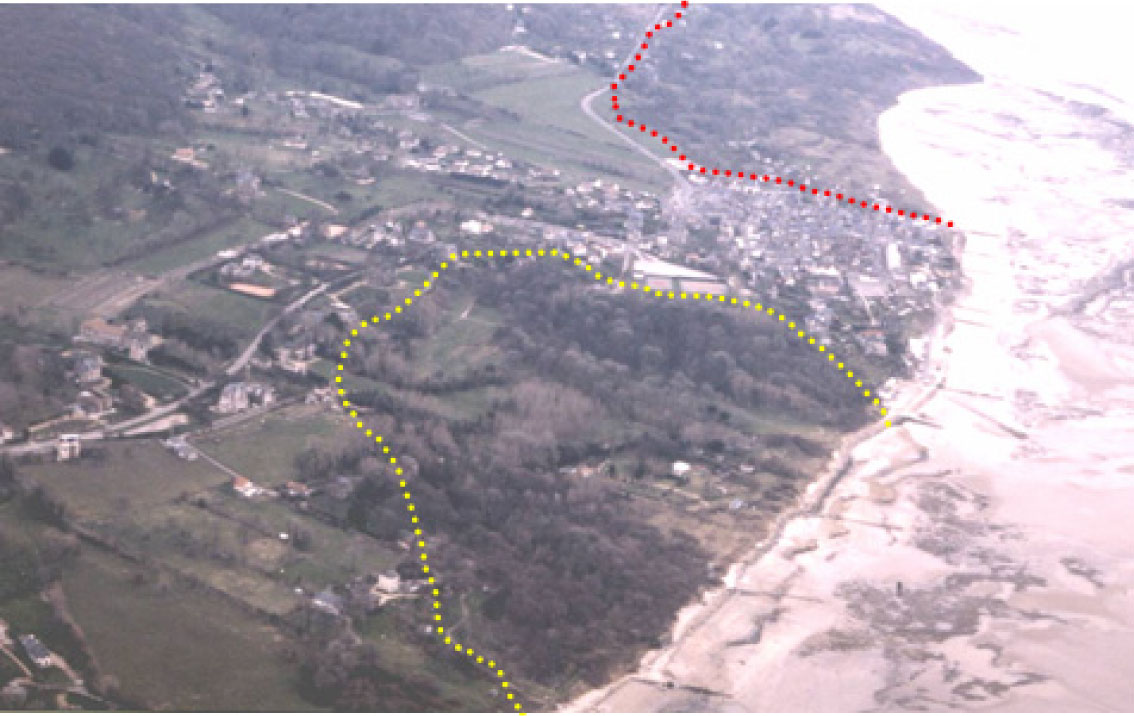 Aerial view to the West on the Villerville-Cricqueboeuf landslides (1988)
---
Monitoring data
Since the 1980's, the landslides are investigated by the University of Caen-Basse-Normandie (Laboratory LETG/Caen), in coordination, sicen 2007, with the School and Observatory of Earth Sciences, Institute of Earth Physics (Strasbourg).
Morphological setting of the Pays d'Auge cliffs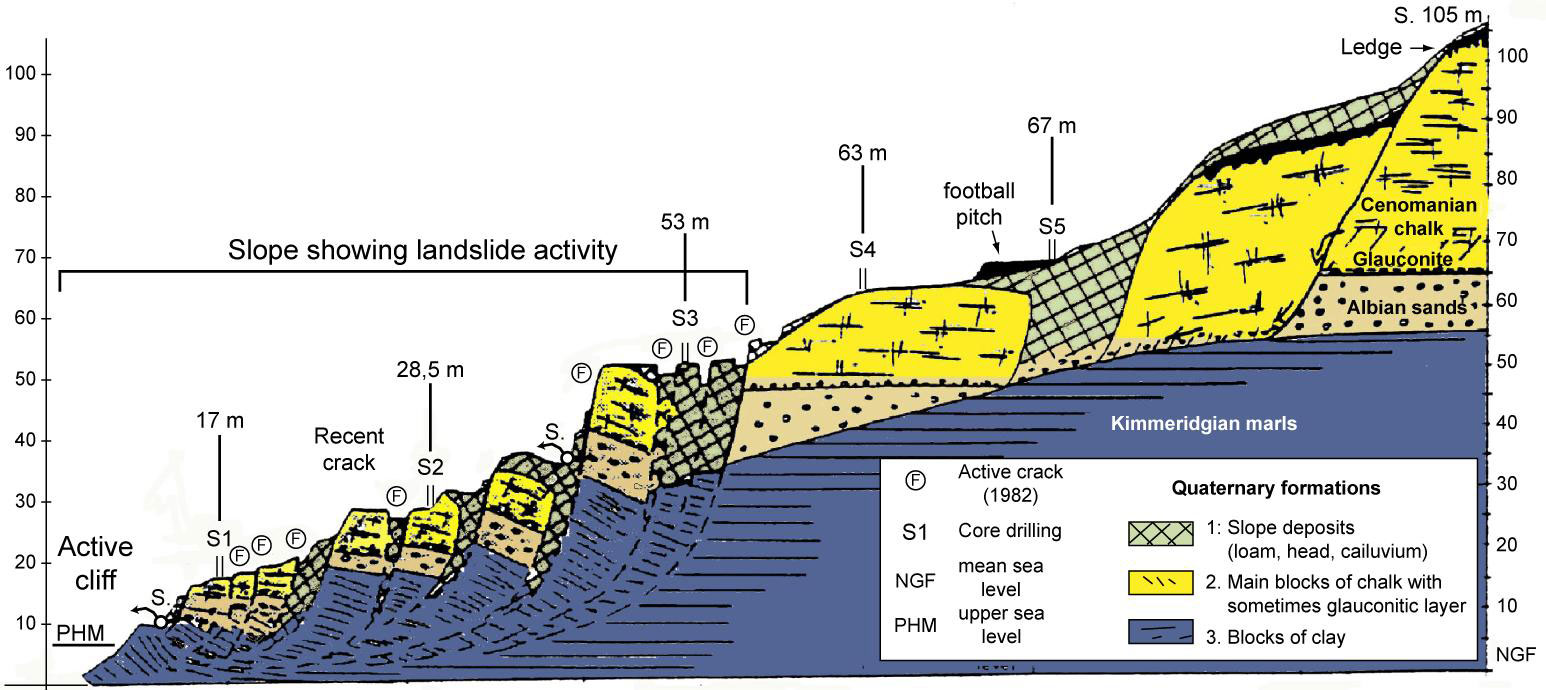 Geological profile of the present coastal slope of Villerville
More details Here.