Presentation
The Séchilienne landslide affects micaschites to subverticale foliation. The hillside, cut by 3 networks of vertical fractures (ENE-WSW), shows depressions of several hundred meters long and steep slopes of several meters high of which a sommital 30 meters high (Dry Mount, north end). The absence of glacial erosion and deposits in the depressions shows a postglacial origin. The very active part considered at a volume from 3 to 5 millions of m3 only represents a part of an ensemble movement which can reach 100 millions of m3. The displacement rate varies of some cm in some dm a year.
The instability is due to the mica-schists nature of the site and the decompression of the massif during the Romansh glacier retreat after the last glaciation (15 000 years ago), which caused the opening of fractures and then the collapse of the summit of the Mont Sec.
The aggravating factors are an obvious correlation with the pluviometry and the presence of the bordering active fault of Belledonne.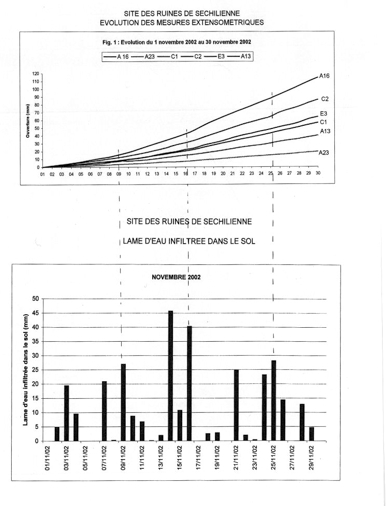 Correlation between pluviometry and movements in November 2012(Pothérat, personal communication)
---
Risk and major stakes
The risk is very high because the stakes are important. A massive collapse could block the bed of the Romansh River and create a lake of natural dam, which if it broke would provoke a wave propagating towards the urban area of Grenoble and the chemical complex of Jarrie.
---
Monitoring data
A monitoring system is settled by the CEREMA Rhône Alpes since 1986, gradually developed and automated during the years. It includes pluvio and nivometric sensors, 27 extensometric bases (opening of big fractures), geodesic measures by laser ( 41 marks) from the opposite hillside and since 2000, GPS and radar measures of control.
A network of on-surface spontaneous polarization and in the gallery of gratitude(recognition) since 2005.
2 seismological stations in the unstable zone since May, 2007, then a station 24 ways installed in April, 2008 in the gallery of recognition.
Other available measures
Campaigns of geophysics (PS, seismic, electric, electromagnetic, seismic background noise)
Statements of fractures made in the gallery of recognition (reaching 240 m of length)
Temporary seismological measures
More details Here.